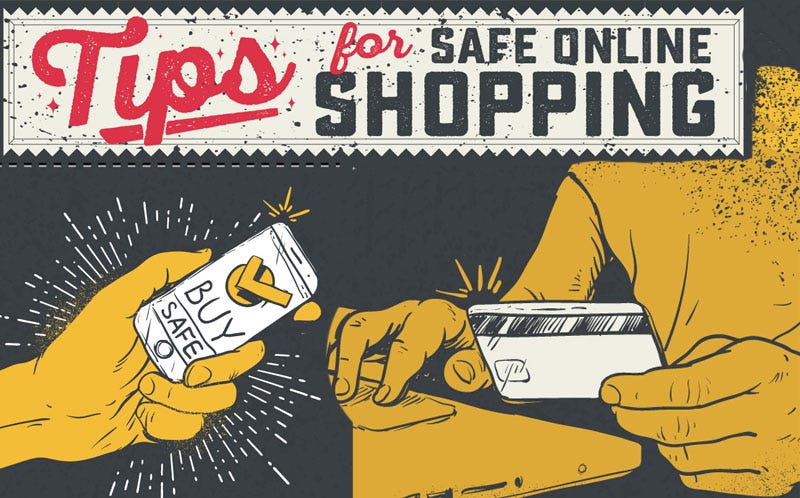 Shopping online is convenient and you can do it laying on a couch with your cat. Ah, so many choices, so many shops to browse. However, there are certain potential risks associated with online shopping that you need to be aware of. Hackers and fraudsters may be lurking behind seemingly harmless websites trying to steal your money and identity.
But by no means do I intend to discourage you from your favorite activity.
Simply follow these basic guidelines to enjoy shopping online safely:
Use Safe Websites. Make sure that the website you intend to supply with your precious financial information is encrypted and your connection is secure. This is very easy to check. Look at the beginning of the site's web address and verify that it has 'https' instead 'http'. If you use Google Chrome, the site should display a 'Secure' status icon to the left of the web address.
Use Protected Computers. Make sure the computer you plan to use for shopping is protected against viruses and the antivirus software is up-to-date.
Use Mobile Apps When Possible. When shopping on your phone, see if the shop has a mobile app. Large retailers like Amazon, Ebay, Etsy and Target usually offer their mobile apps for free at Google Play Store (for Android phone users) and Apple App Store (for iPhone users).
Avoid Using Public Computers and WiFi. It is best to avoid completing monetary transactions via your public library computer or using the free WiFi connection at Starbucks. If you do however urgently need to buy those stylish polka dot socks, make sure to use incognito browser mode. It does not store your Internet history and personal data on the computer.
Use Credit Cards. When shopping online (and offline too, by the way), never use your debit card. If thieves get a hold of your debit card information, it is the same as if they gained access to your bank account. You can lose all the money stored there. Credit card transactions, however, are protected by law and if your data is stolen, you may only be responsible for up to $50.
Use Third Party Payment Systems. Paypal and Amazon Payments provide additional security, particularly when you are ordering products from a less known retailer. Online shops don't gain access to your credit card information, as the only info they receive are your name and shipping address.
Create Strong Passwords. If you imagine your banking or even a shopping account as a house, then your account password is the key that keeps your personal information safe behind closed doors. Thus, it is very important to use strong passwords containing a mix of letters and numbers. If you pick a password like '123456' or simply 'password', you are basically leaving keys to your house under a welcome mat.
Don't Share Personal Information. If you buy something online and the retailer is asking for your social security number or your date of birth to verify the transaction, never give it up! In fact, consider cancelling your order.
Check Credit Card Statements. Make sure to check your bank and credit card statements regularly. Some things to look for are unusual or unauthorized transactions from unfamiliar companies (even tiny amounts).
Images from ReviewsByHumans.com